Working With An Environmental NGO
Our being at TVB Group means going where issues that touch on education bring us. Today, it was to a session of the Provincial Board of Oriental Negros, with the Friends of the Banica River and the Environment (FBRE). We provided technical support again as FBRE presented its appeal for "Oriental Negros: Nature Destination", an appeal for legislation against the proliferation of billboards - especially those of liquor and cigarettes - along the roads and highways of the province.
FBRE's stand is that these advertisements "deface and degrade the view of the natural environment" , but more important, bombards the public with dangerous messages like drinking and driving (KOOL sa Driving!), and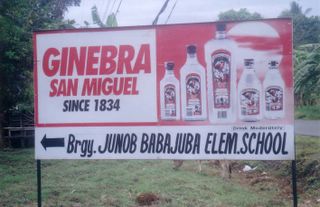 even conditions school children into accepting alcoholic drinks as common place and a part of their lives (sign pointing to an elementary school).
FBRE believes that it is time now to re-claim these roads built with taxpayers' money, from the commercialization being done by companies putting up huge billboards; time to sit up and take notice of what these ads are saying especially to the youth; time to think about what the presence of these offensive ads is saying about us. Is Oriental Negros a Nature Destination, or is it Alcohol (Cigarette, etc.) Country?